Hello, fellow cooks!
I hope everyone is enjoying my favorite holiday of the year—Thanksgiving! Truly, it IS my favorite because it just epitomizes family getting together for the pure pleasure of getting together, no obligatory gifts, just fabulous food, camaraderie, football, hunting, an adult beverage, great naps in front of a fireplace, (I'm having gas logs installed as I write!), that cousin coming into town for a long weekend, maybe seeing the grandchild or grandchildren, and so many more memory making opportunities.
Personally, I skip Black Friday, the mall is the LAST place you'll find me, I do however, have a guilty face if I walk into the grocery, because I want all of them to be at home with their families. But I always seem to be missing one key ingredient of some new recipe I want to try while I have time and sometimes while I have time alone if Big Daddy is off with that cousin who wants to hunt. I could really care less about football unless it's my wonderful Saints about to qualify for Stupid Bowl!!
So many comments from so many of you, and I thank you and am thankful FOR you, all of you who are so especially kind regarding The Cooking Lady show. As I ramble, I'll try to answer some questions from you, and hopefully inspire you to cook, to try to cook, but mostly just to enjoy the process. Please enjoy your failures, if in fact, you have a failure or two, I've had many, and sometimes it's just Big Daddy going " that was ok, just a little funky, but still edible" . You, know the man's palate is not that educated, I keep trying to throw in a little herbes de Provence, or cumin, and sometimes, it just ain't happenin'! I reserve my real experimentations for my girlfriends who appreciate an odd spice or two, and give excellent critiques rather than "a little funky"!
Okay, I better answer some questions first: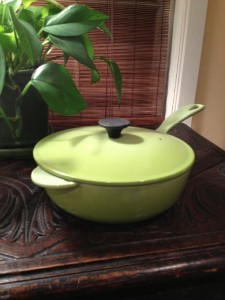 My green pots—from Le Crueset, enameled cast iron, and don't think the color is available anymore.
My knives—one from Cutco, and one from Henckels, both are santuko chef's knives
My china—my own, Botanic Garden from Portmeirion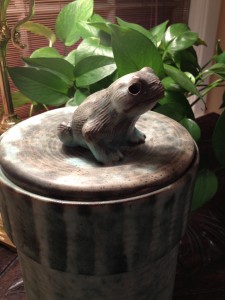 My pottery—beautiful from my sweet friends at Peter's Pottery in Mound Bayou, MS, Please look at their website!
My gravy of choice for Thanksgiving—giblet or au jus?? Sorry, to disappoint, but I'm an Au jus girl, habit from the time I can remember at my great grandmother's table on Avery Island, Louisiana! Exquisite! Savory! Mushrooms for days! Happiness! I'm so sorry to disappoint anyone, but I just remember my first Thanksgiving with my Dear husband's family and when the gravy was gone, my darling mother-in-law, said I can whip up some more, and I thought, HOW??? Where did those hard boiled eggs come from, and what are those pieces parts floating around?? I called my mother immediately after dinner, and asked how do you do that??? The gravy was WHITE! I'm just used to lovely dark, rich, savory, mushroom ladened au jus gravy, and you know, there just might be a few needles of rosemary floating around! And some Kitchen Bouquet! Enough on the gravy! (Louisiana is the only place I; know that sells Kitchen Bouquet by the quart==really!)
My filming location—my house! That's why I can open up drawers and usually find what I need.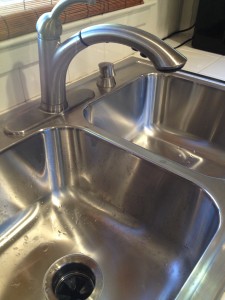 My sink situation—replaced!! A new stainless steel sink and faucet just ready to take on all the cleaning necessary!
My feeling on pasteurized oysters—get them while you can, and don't forget about lump crabmeat, it might be the same way. Just cut those oysters in half if your husband whines, "they're just too big!" Gimme a break.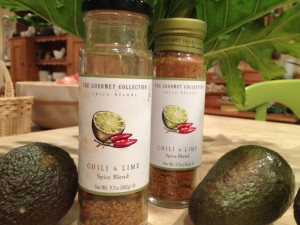 My new favorite product, and I don't endorse products—Chili and lime spice blend, I found this on the internet, and it helps to make the most fabulous catfish tacos you ever put in your mouth. Just coat the catfish filets lightly with the blend, sauté in olive oil on the stove top;, and you can dress those tacos any way you want—avocados, salsa, a little fresh lime, some chopped cilantro, a dollop of sour cream, shredded lettuce, whatever, just heat the soft tortillas first, and ole, you're in heaven. (Dangoldinc.com)
My don't forget item for a quick dessert—microwave pralines, and they make a fantastic Christmas gift in a lovely tin or box. Have a great cup of coffee to accompany.
My stuffing or dressing of choice, Pepperidge Farms herbed bread dressing mix, sauté, some onions, green onions, mushrooms and celery, add cooked and drained pork sausage, mix with some good chicken stock or broth, sprinkle with Cajun seasoning, and bake lightly—oh, I'm homesick already. My Mom.—I just love "The Edith", I miss her every day, and she just makes me laugh. Actually, we make each other laugh, she has a VERY risqué sense of humor and is quite an exceptional cook herself, she just doesn't' acknowledge it. She lives in Texas and doesn't get to see the show unless on YouTube!! My mom on YouTube!!
My newest, dearest admirer—Mr. Jim Walton of Rosedale, MS, what a gentleman—got a hug and kiss on the cheek from this lovely man at my church's fall bazaar luncheon—he loves the show and is so supportive and kind, and I think he just might deserve a little thank you gift, don't you think??
My new status on many of your stations—we've been moved around a lot, not on some stations any longer, picked up by new stations, and we're now looking for some new sponsors. We'd like to continue to be with you, and we're hoping that we have some luck in this area. The Cooking Lady cookbook is done and hopefully we'll be finding the right publisher.
My wish—to be with you for quite awhile, to share and cook together, I hope you are all safe and well and have wonderful dishes for this most fabulous of holidays—All my best to you and yours, with much gratitude and affection,
I remain,
Ann Hollowell
The Cooking Lady