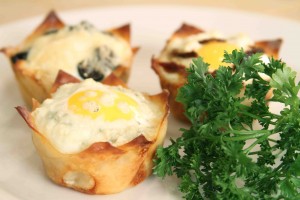 I don't remember the first time I had eggs in a basket, but I'll always remember the taste and texture of that special little meal: a serving for one, seemingly grand because it came in its own little dish, on a little plate, just for me.
In my family, if you didn't own at least two dozen Pyrex custard cups, you just didn't measure up. You weren't worthy. Wretched excess always had its rewards. You could make lots of custard, store tidbits in the fridge, and of course, make lots of eggs in a basket for, as my Aunt Arthe used to say, lots of visiting firemen. When cousins came to spend the night, or your parents went out and you had a babysitter, eggs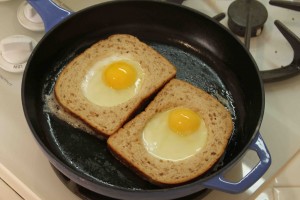 in a basket was a treat. It was unique, and as children, we had no idea it was so simple—we just knew how we loved it.
I can picture the little Pyrex cup smeared with butter, a piece of Evangeline white bread smushed ever so gently into the cup with all four corners sticking up, and the egg, oh the egg, nestled into the bread, topped with a pat of butter, ready to go into the oven. If you did indeed have visiting firemen, lots of cousins or friends, the cookie sheet was loaded up with lots of little cups and off to the oven it went. It didn't take long, no, it didn't, just long enough for the whites to cook through, and when the bread corners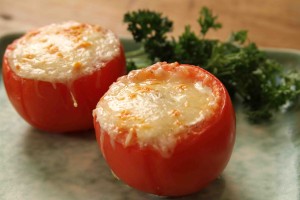 were well toasted, that was usually the sign to get that goodness out of the oven. Here it came! Now the good part—we felt so grown up to get to use a little Tabasco on our eggs—a couple of spots of the rich redness, and we were good to go!
Now eggs in a basket have grown up, matured, and developed new taste sensations. The combinations of flavors, meats, cheeses, vegetables, and spices are endless, and I encourage you to expand your own culinary horizons—you just may hit the money combination. I personally plan to incorporate some curry,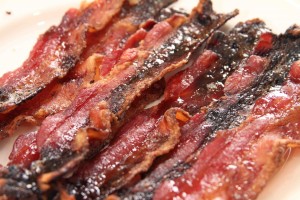 a little chutney, some herbs, and maybe more goat cheese, loving the way that creaminess really compliments the eggs. Whatever you prepare, prepare your eggs in a basket with the gusto and enthusiasm from your childhood—you just might be surprised with the results. Enjoy, create food memories, and I look forward to being with you again.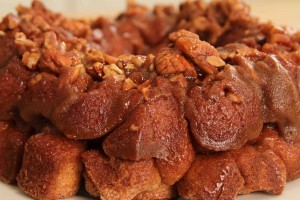 P.S. Don't forget something sweet with the rich savory experience of the eggs. Besides monkey bread from this weekend, we'll be doing some flavored biscuits in the future, bite sized fruit tarts, and lots of other goodies—keep cooking!
Recipes:
Baked Egg in Tomato Cup
Brown Sugar Bacon
Eggs in a Basket
Eggs in a Hole
Monkey Bread