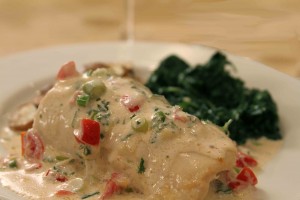 This recipe is written for one chicken breast, if you want to make more than one chicken breast you'll increase the amounts accordingly.
Ingredients
For Chicken
boneless, skinless chicken breast
butter
white pepper
sliced ham
sliced Swiss cheese
For Sauce
2 tablespoons heavy cream, and more to the pan if needed (it will be)
1 tablespoon chopped fresh curly leaf parsley
1 green onion, top and bottom, sliced very fine
2 tablespoons chopped tomato
White wine to taste
Salt to taste at the very end, remember you're using cheese and ham
What To Do
Pound chicken breast very thin. Sauté in melted butter until just white on each side, and set aside. Sprinkle with white pepper, and top with one slice very thin ham and a very thin slice of Swiss cheese. Roll up and secure with several toothpicks. Set aside.
In a heavy, deep sided skillet add heavy cream (you may need more to cover the bottom of the pan), parsley, green onions, tomato and white wine. You will adjust proportions to taste and for quantity, for example, if preparing 4 to 6 chicken breasts, you'll want to cover the bottom of a large skillet with enough cream. Add the correct amount of parsley, green onions, and tomato. For every 4 to 6 chicken breast, I use about ¼ cup of a very dry white wine—don't overwine!!
Heat this mixture thoroughly, don't boil, just lightly simmer. Add your rolled up chicken breasts, and spoon mixture over them until cooked through. Remember, chicken needs to be white all the way through, but then don't despair when you see some pink, that's the ham.
The more you prepare this recipe, you'll adjust to your personal taste the amount of white pepper and white wine. Just be careful with the wine, the slight crunch left on the vegetables is delightful, and with the cream heated thoroughly, and the chicken done, the sauce is amazing!
For A Printer-Friendly Version, CLICK HERE.
From the episode: Ann's Bleu
Copyright 2011 The Cooking Lady, LLC