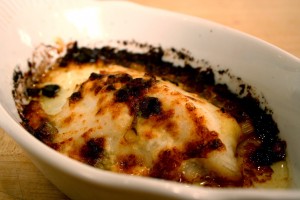 This recipe is generously provided by Evelyn Roughton of The Crown restaurant and is featured in her cookbook Classic Catfish from the Crown at the Antique Mall
Ingredients
6-8 catfish fillets
1 c grated Parmesan cheese
½ c butter or margarin, softened
6 tbsp mayonnaise
6 green onions, chopped fine
½ tsp Worcestershire sauce
Generous dash Tabasco
What To Do
Place the cheese, butter, mayonnaise, onion, Worcestershire and Tabasco in a bowl and mix thoroughly. Butter mixture may be made 24-hours ahead and kept refrigerated.
Poach the catfish fillets in lightly simmering water for 4 to 5 minutes. Fently lift the fillets from the water and set aside to drain.
For individual servings, place the fillets in au gratin dishes and cover with 2 tablespoons of the cheese mixture. Broil for 2 to 3 minutes until the cheese mixture browns.
Without individual dishes, place fillets into a baking dish. Cover each fillet with the cheese mixture and brown under the broiler. Carefully lift the fillets from the dish onto the plates and spoon some of the pan juices over each serving.
Serves 6 to 8.
From the episode, Catfish A La Facebook.
Copyright 2011 The Cooking Lady, LLC