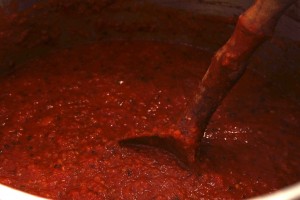 Ingredients
1 pound baby carrots
1 bunch celery
4 large onions, peeled and quartered
3 heads garlic, peeled (not 3 cloves, 3 HEADS of garlic)
2 28-ounce cans pureed tomatoes
2 28-ounce cans diced tomatoes
2 28-ounce cans crushed tomatoes
2 16-ounce cans tomato paste
Bay leaves
Dried basil
Salt and pepper
Dried parsley
Dried oregano
Red wine
What To Do
In separate batches, run all vegetables through a food processor until somewhat fine. In large stock pot, sauté onions in olive oil until soft. Add garlic, then carrots and celery. Add all tomato items and begin to simmer. Begin to season to taste with all dried herbs, wine and salt and pepper. DO NOT ADD SUGAR! The natural sweetness of the carrots is more than enough. Add water as needed to maintain desired consistency. Simmer at least 4 hours, if not longer, stirring constantly so as not to burn the sauce.
For A Printer-Friendly Version, CLICK HERE.
From the episode, Seeing Red Sauce with George.