Microwave Pralines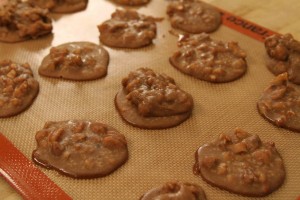 Ingredients
1 pound light brown sugar
1 8 oz. container regular Cool Whip
½ cup chopped pecans
2 tablespoon butter
What To Do
Mix together brown sugar and Cool Whip in a large bowl that can stand microwave heat (I suggest a 2 quart Pyrex measuring bowl with a handle). Microwave mixture on high for 5 minutes, remove from microwave and stir vigorously with a wooden spoon for 2 minutes. Add pecans and return to microwave for 6 minutes on high. Remove from oven, add butter and stir until mixture loses gloss and begins to thicken.
Turn out on a Silpat sheet or a very smooth surface that has been coated with cooking spray. DO NOT USE WAX PAPER—IT WILL MELT!
Makes approximately 16 praline patties. Allow to cool thoroughly.
For a printer-friendly version click here.
From the episode: Halloween
Copyright 2011 The Cooking Lady, LLC