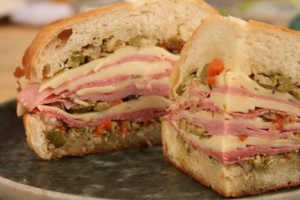 Ingredients
1 10 to 12 inch round loaf
½ pound provolone cheese, sliced
½ pound mozzarella cheese, sliced
½ pound salami, very thinly sliced
½ pound Italian ham
Olive salad, at least a pint
What To Do
Slice bread in half horizontally. Scoop out some of the soft bread, top and bottom then add a couple of tablespoons olive salad to top and bottom halves. In bottom half, begin to layer the cheeses and meats, alternating them. In between layers, add some olive salad making sure to save some for the very top. When sandwich is desired "height" finish with olive salad, put top on bottom and wrap well with plastic wrap, then with foil. Sandwich may be left out on counter, giving the meat, cheese, and olive salad a chance to blend together, and for the juices of the olive salad to soak into the bread. You may want to flip the sandwich from time to time. When time to serve, unwrap, and slice into quarters. Serve at room temperature, this is an ideal sandwich to take tailgating, doesn't need to be refrigerated.
For A Printer-Friendly Version, CLICK HERE.
From the episode, Tailgate Too.